Activation of IKO on a number not registered at the bank
It is possible to activate IKO on a phone number that has been added to the Bank's system - e.g. when opening an account in the Bank.
If your phone number has changed or you want to add a new mobile number for IKO, one-time passwords sent as a text message or text message notification, register this number in your nearest PKO Bank Polski branch. A map of branches is available in IKO and at pkobp.pl/poi
You can also activate IKO on a number not registered at the bank. In that case the activation process of IKO is taken over by PKO Bank Polski hotline consultant, who will call you back to confirm your data.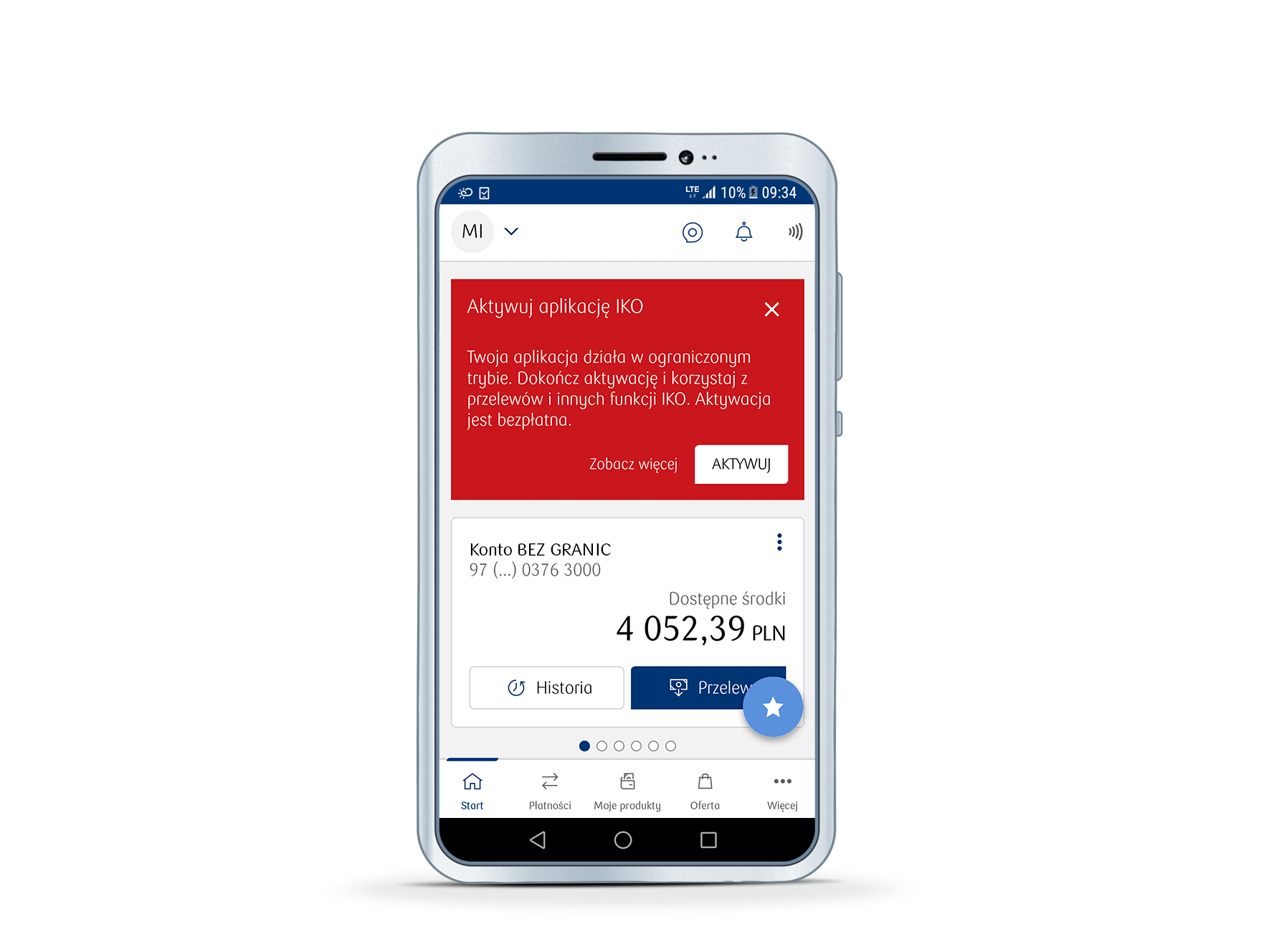 1. Start your phone, go to the application store and look for IKO entering the "IKO" or "PKO" expression. Next, tap on the application icon and the download button.

2. Open IKO and tap on I have an account.

3. IKO will show you a first screen of the wizard which will guide you through the subsequent steps and will be displayed before every step. Tap the Start button.

4. Enter your customer number (you will find it on the first page of your account agreement with PKO Bank Polski).

5. Enter the password to the iPKO internet service.

6. Assign a PIN to the application. You will be using it to log in to IKO and confirm transfers, top-ups and other operations performed in IKO.

7. In IKO, tap the Activate the app button.

8. For security reasons, it will be necessary to send a text message (cost as per the operator's rate) to the bank to verify the authenticity of the application and your phone number. Do not modify the contents of the text message or the number to which it is sent.

9. The hotline will call you back and ask you a series of verification questions. Then the consultant will activate your application remotely and allow you to use all the features of IKO.

---

The new version of the IKO is available for phones with operating systems included in IKO technical conditions.

* Downloading the application requires access to the Internet and may be subject to a charge for the data transmission package you use.