IKO limits
IKO is a payment tool and just like in the case of the credit card transactions, IKO transactions are subject to limits. Persons using the IKO app linked to their account can change the limits for IKO on iPKO service.
Click the button below to change your IKO limits
Go to the IKO tab in the iPKO banking service
...or follow the instruction:
1. Log in to the iPKO service.
2. Select Moje produkty → Aplikacja IKO.
3. Select a tile with IKO app, the limits of which you want to change.
4. Select zmień limity (change limits).
5. Set the preferred values and confirm changes.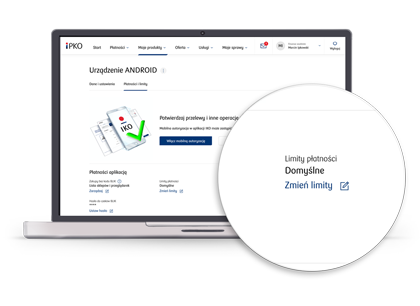 Instant transfers vs. limits in IKO

Instant transfers in IKO are carried out within the transaction limits of IKO and are additionally limited to the following amounts:

Single instant transfer: PLN 3,000
Daily limit of instant transfers: PLN 6,000 (a joint limit for all channels)
Single instant transfer to the Tax Office: PLN 50,000 (in agency, this limit is PLN 3,000)
Daily limit of instant transfers to the Tax Office: PLN 250,000 (a joint limit for all channels)

IKO limits

Below we show the current limits with different options defined by the Bank. Amount and quota limits for transactions before logging and after logging into IKO are the same.

Setting limits: DEFAULT

Maksymalna dzienna liczba transakcji
The maximum number of daily transactions

Maksymalna dzienna kwota transakcji
The maximum daily amount of transaction

Kwota pojedynczej transakcji bez kodu PIN
The amount of a single transaction without PIN code

Przelew na telefon
Mobile transfer

20
3 000,00
50,00

Transakcja w terminalu płatniczym przy użyciu kodu BLIK / czeku BLIK
Transaction in the payment terminal using the BLIK code / BLIK voucher

20
3 000,00
100,00

Wypłata z bankomatu przy użyciu kodu BLIK / czeku BLIK
ATM withdrawal using the BLIK code / BLIK voucher

20
3 000,00
100,00

Płatności internetowe przy użyciu kodu BLIK / czeku BLIK
Internet payments using the BLIK code / BLIK voucher

20
3 000,00
50,00

Przelew zwykły
Ordinary transfer

20
3 000,00
50,00

Setting limits: COMFORTABLE

Maksymalna dzienna liczba transakcji
The maximum number of daily transactions
Maksymalna dzienna kwota transakcji
The maximum daily amount of transaction
Kwota pojedynczej transakcji bez kodu PIN
The amount of a single transaction without PIN code
Przelew na telefon
Mobile transfer
100

do salda rachunku
(nie więcej niż 3 000 zł)
up to the account balance (no more than PLN 3,000)

zawsze bez kodu PIN
always without a PIN code

Transakcja w terminalu płatniczym przy użyciu kodu BLIK / czeku BLIK
Transaction in the payment terminal using the BLIK code / BLIK voucher
100

do salda rachunku
(nie więcej niż 20 000 zł)
up to the account balance (no more than PLN 20,000)

zawsze bez kodu PIN
always without a PIN code
Wypłata z bankomatu przy użyciu kodu BLIK / czeku BLIK
ATM withdrawal using the BLIK code / BLIK voucher
100
do salda rachunku
(nie więcej niż 20 000 zł)
up to the account balance (no more than PLN 20,000)
zawsze bez kodu PIN
always without a PIN code
Płatności internetowe przy użyciu kodu BLIK / czeku BLIK
Internet payments using the BLIK code / BLIK voucher
100
do salda rachunku
(nie więcej niż 20 000 zł)
up to the account balance (no more than PLN 20,000)
zawsze bez kodu PIN
always without a PIN code
Przelew zwykły
Ordinary transfer
100
do salda rachunku
(nie więcej niż 10 000 zł)
up to the account balance (no more than PLN 10,000)
zawsze bez kodu PIN
always without a PIN code

Setting limits: ALWAYS WITH PIN

Maksymalna dzienna liczba transakcji
The maximum number of daily transactions
Maksymalna dzienna kwota transakcji
The maximum daily amount of transaction
Kwota pojedynczej transakcji bez kodu PIN
The amount of a single transaction without PIN code
Przelew na telefon
Mobile transfer
10
150,00

nie dotyczy
not applicable

Transakcja w terminalu płatniczym przy użyciu kodu BLIK / czeku BLIK
Transaction in the payment terminal using the BLIK code / BLIK voucher
10
300,00
nie dotyczy
not applicable
Wypłata z bankomatu przy użyciu kodu BLIK / czeku BLIK
ATM withdrawal using the BLIK code / BLIK voucher
10
300,00
nie dotyczy
not applicable
Płatności internetowe przy użyciu kodu BLIK / czeku BLIK
Internet payments using the BLIK code / BLIK voucher
10
150,00
nie dotyczy
not applicable
Przelew zwykły
Ordinary transfer
10
150,00

nie dotyczy
not applicable

In addition to the pre-defined limits settings created by the bank, users may select the amounts and details of all the limits by selecting in iPKO or Inteligo the following setting: USER SETTINGS provided that the daily limit for ordinary transfers does not exceed PLN 10,000, for mobile transfers it does not exceed PLN 3,000 and for transactions in the payment terminal, ATM withdrawal and online payments it does not exceed PLN 20,000.

Method of confirming transactions using the IKO code without logging in to the application

Transakcja na kwotę 0,01-50,00 zł
Transaction for PLN 0.01-50.00

Transakcja na kwotę 50,01 zł lub więcej
Transaction for the
amount of PLN 50,01 or more

Transakcja w terminalu płatniczym przy użyciu kodu BLIK / czeku BLIK
Transaction in the payment terminal using the BLIK code / BLIK voucher

Pierwsze 3 transakcje – potwierdzenie przyciskiem "TAK", 4-ta i kolejne transakcje – potwierdzenie kodem PIN
The first 3 transactions - confirmation with "YES" button, 4-th and subsequent transactions - confirmation with the PIN code

Potwierdzenie kodem PIN
Confirmation with PIN code
Wypłata z bankomatu przy użyciu kodu BLIK / czeku BLIK
ATM withdrawal using the BLIK code / BLIK voucher

Potwierdzenie kodem PIN
Confirmation with PIN code

Potwierdzenie kodem PIN
Confirmation with PIN code
Płatności internetowe przy użyciu kodu BLIK / czeku BLIK
Internet payments using the BLIK code / BLIK voucher
Potwierdzenie kodem PIN
Confirmation with PIN code
Potwierdzenie kodem PIN
Confirmation with PIN code