Open an account in IKO
Download and activate the IKO app: you can open the account on-line via video verification1
Video-verification: a selfie account
You can open the account within 15 minutes without leaving home.
You can sign the agreement on-line: your identity is verified with the use of the photo from the ID card and you face.
After signing the agreement, you immediately have access to payments and BLIK withdrawals, domestic transfers.
Some functions of the account require additional confirmation of identity in a Bank branch due to security reasons.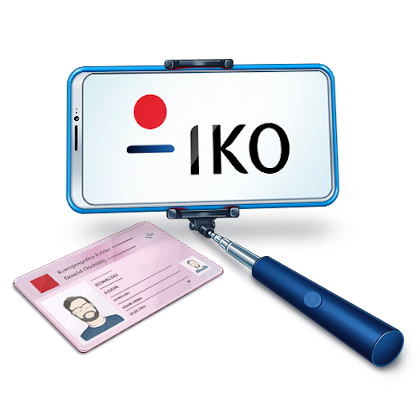 Which accounts can be opened via the selfie option in the IKO app?

How to open an account with selfie?

1. Download and activate the IKO app and then choose "Open a Selfie Account."

2. Enter the contact details and give your consent for the use of your image during a video verification, and then choose an account for yourself and, if you wish, order a payment card.

3. Take a photo of your ID and your face, check the correctness of data, provide your address of residence, accept declarations and file the application.

What's next?

In an e-mail message from the Bank, you will find your data to log-in to iPKO and the mobile IKO app. We will send the password for your first log-in via SMS.
After the first log-in to iPKO, we will ask you to set your own password and after the first log-in to the mobile IKO app, to assign your own PIN.
Some functions, for example e-office, will require additional confirmation of your identity in the Bank branch.

1

From the moment of signing the agreement on-line by the client until the moment of showing the ID in a branch, the account may be used in a limited mode, i.e.:

the daily limit of transactions to the account is PLN 10,000.00 (not subject to changes);
there is no possibility of managing the debit card limits issued to the account;
there is no possibility of using the e-office and the entire functionality of the state administration, i.e. filing a 500+ application;
there is no possibility of ordering more than one debit card for the account, with the exception of blocking and, at the same time, ordering a new card;
there is no possibility of changing limits for the IKO app.