Application for business account and company registration in the CEiDG
Register your business and open a business account in one application in the mobile IKO app, without any visits at offices
Check why setting up a business account in PKO Bank Polski is a good idea [PL]
Check if you can set-up a company on-line:
You are over 18, you live in Poland and you have Polish citizenship
You have a personal account in PKO BP with access via online banking
You have not registered any business in the CEiDG (Central Register and Information on Economic Activity)
Which business accounts can be opened in the IKO app?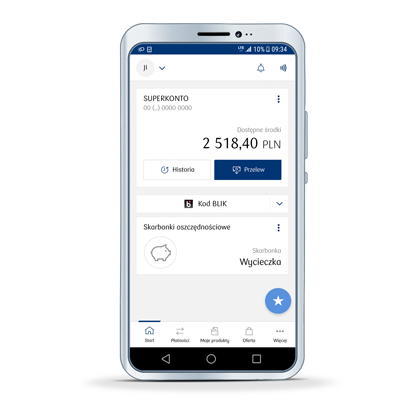 Which information do we ask you to provide in the application?

Name of your company
The name should contain your first name and surname and information about the type of business.
E-mail address and telephone number of your company
Company address and correspondence address
Remember that the premises that you enter here have to be owned by your or officially leased, rented or lent to you for use based on a written or oral agreement.
Type of business activity and PKD codes
Codes from the Polish Classification of Activities (PKD) describe the profile of operation: choose one main code and 9 additional codes from the official list.
Our application features a convenient search for the PKD codes - just start entering a name or a digital code and the available PKD codes will be displayed.
Form of accounting records and tax settlement
Check the available modes of settling income in our guidebook.

How to file an application for business account and company registration in the Central Register and Information on Economic Activity (CEiDG)?

1.

Expand your Profile in the IKO app in the left hand corner of the screen and click on the application for business account.

2. Choose the account you want and, if you wish, order a pay card and enter the basic data. Decide if you want to use the overdraft option and the manner in which you prefer to receive the bank statements: via the iPKO website or sent your e-mail address.

3.

Mark the required declarations and file the application. After reading the agreement, sign it in the IKO app. As soon as the CEDiG registers your company, you will receive an SMS and e-mail confirmation.