Paid parking zone with IKO
Pay for parking in IKO: you can add several cars to the app and accelerate the next transactions to the maximum.Service provided by moBILET.
You do not have look for parking metres any more: you choose Parking fee in More ••• section .
You do not need cash any more: you choose the account from which the fee will be charged in IKO.
You do not pay in advance for the time of parking which may not be used: you can stop the fee charging at the moment of leaving the paid parking zone.
You can also avoid unnecessary parking fees - you just have to turn on the localisation service in your telephone settings. When we notice that you are no longer parked at the previously selected parking site, we will remind you to end the parking fee.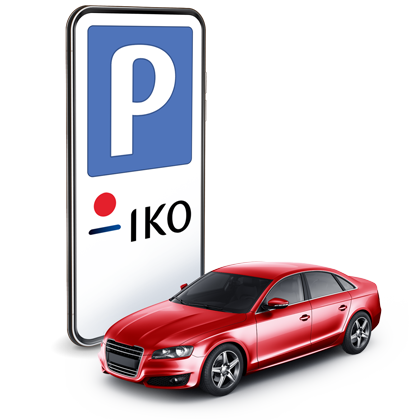 How to use paid parking in IKO with the service provided by moBILET?

When turning the service on for the first time, accept the regulations of moBILET. It is enough to provide only basic information:

city in which you park
license plates of the car
mode of payment: start/stop or until a specified time

We will ask you to save your car - thanks to this, paying for parking in IKO will be even faster

You can add several cars to the app and use these settings in the future

If you want to change, e.g., the name of the car, just choose the description edition option
If you chose pre-paid parking, we will send you a push notification before it ends

You can extend the parking time in the app

If you are using the start/stop parking and wish to stop the fee, choose "stop" in My Fees
Mark your car with the moBILET vignette - download it from the IKO app or leave a piece of paper in the car with the word "moBILET" written on it. - The service is available in selected Polish cities.

The service is available in selected Polish cities.

Bełchatów
Bielsko-Biała
Brodnica Brzesko
Bytom
Chełmno
Chodzież
Choszczno
Chrzanów
Czaplinek
Czarnków
Częstochowa
Dzierżoniów
Dziwnów
Dźwirzyno
Elbląg
Gdańsk
Gliwice
Gniezno
Gorzów Wlkp.
Gostyń
Grodzisk Mazowiecki
Grodzisk Wlkp.
Gryfice
Inowrocław
Jarocin
Jelenia Góra
Józefosław
Kalisz
Karpacz
Katowice
Kędzierzyn-Koźle
Kielce
Kołmin Wlkp.
Koło

Konin
Koszalin
Kościan
Kościerzyna
Kórnik
Kraków
Krobia
Krotoszyn
Leszno
Lębork
Malbork
Międzychód
Międzyzdroje
Mosina
Myszków
Namysłów
Nowa Sól
Nowogard
Nowy Tomyśl
Oborniki Wlkp.
Opole
Ostrów Wlkp.
Oświęcim
Pabianice
Piaski
Piła
Piotrków Trybunalski
Pleszew
Płock
Poznań
Praszka
Rakoniewice

Rzeszów
Siedlce
Sieraków
Skórzewo
Słupca
Stara Iwiczna
Stargard
Starogard Gdański
Straszyn
Strzelce Krajeńskie
Suwałki
Szamotuły
Szczecin
Szklarska Poręba
Śrem
Świdnica
Tomaszów Mazowiecki
Toruń
Trzcianka
Ustrzyki Dolne
Wałbrzych
Wałcz
Warszawa
Wejherowo
Wieluń
Włocławek
Zduńska Wola
Zielona Góra
Złotoryja
Złotów
Żory