Application for credit card
Apply for a credit card via IKO
You always know how much you spend - after every transaction, you receive an SMS.
You do not need high income to receive the card.
Convenient card servicing via IKO.
Are you altready a credtit card owner?
You can also change the limit on your credit card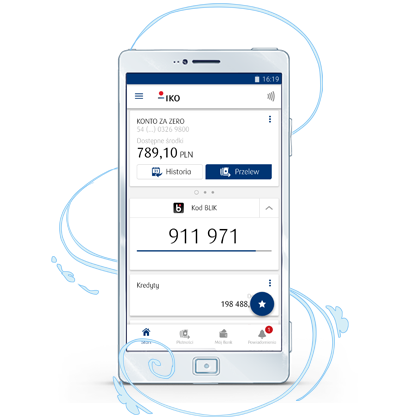 How to apply for a credit card via IKO?

1. Open the application form for a new card in the Cards section and choose the image and specify the limit with respect to the card.

3. We will prepare an agreement for you - you can read it via IKO or access it via iPKO.

4. Accept the agreement with a PIN code or single-use code from the authentication tool in the Applications and Agreements section.

How to change the limit on your credit card?

1.Go to the Cards section and in the context menu (icon with 3 dots) choose the Change the credit card limit option.

2. Specify the new limit and provide some basic data in the application form - at the end, accept the required declarations and confirm the application with the PIN code or a single-use code from the authentication tool.

3. If signing an agreement will be necessary, we will notify you via the app.

How to change a credit card for a different one?

In IKO, go to My Products → Cards, choose your card and in its context menu (three dots icon) → Change Credit Card.
You will see other credit cards available in the offer of PKO Bank Polski for your limit - choose one of them. If you choose the Przeźroczysta karta kredytowa, you can also change her look.
Accept the terms and you are done. In some cases, we will ask you to sign a new agreement - you can do it in the IKO app. The card will be sent to you by post.