How to safely use mobile banking?
To safely manage finances in your phone, pay attention not only to the aspects related to IKO but also to the general terms of use of your mobile phone and the data stored on it.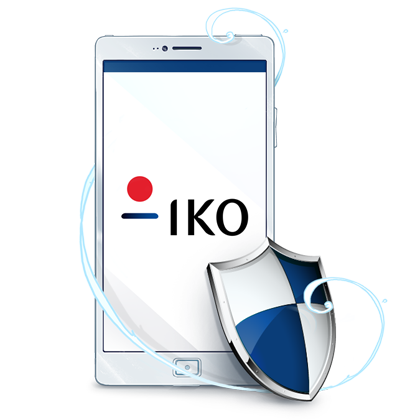 Update your phone applications and operating system

Creators of operating systems and applications develop their applications and add improvements, enhancing their security.

You will receive information about operating system updates in the form of a notification (if your phone is connected to the Internet). However, application updates are published through the application store - you can enable their automatic update or enter the app store and "manually" allow downloads of newer software versions for your phone.

Download applications from authorized stores

The most popular phone operating systems: Android, iOS and Windows Phone, have dedicated, authorized app stores. To download applications from them*, find the store icon on your phone and set up an account (profile) in the store.

You can also download applications from other sources, but this solution is not recommended for security reasons.

Block your phone screen

You may accidentally leave your phone unattended, it may fall out of your pocket or purse or be stolen. In that situation, if the phone has no screen lock, a stranger will have access to your personal data: contacts list, messages from friends and family, photos and videos taken with the camera. If you do not have a screen lock yet, we recommend setting it up.

1. Go to your phone's settings, find the "lock screen" option and go to the screen lock type selection.

2. Select the preferred lock method. You should consider choosing an individual PIN code which is safer than a pattern or a simple drag.

Protect your IKO PIN

As in the case of a PIN for your payment card, the 4-digit PIN set up during application activation is a key to IKO which not only allows you to access it, but also to approve transactions ordered via the application. You should make sure it is safe:

Do not give your PIN to anyone and do not write it in a place accessible to others.
Make it difficult to decipher your PIN - avoid obvious combinations like your date of birth.
If you suspect that someone may know your PIN, change it as soon as possible. The PIN may be changed in IKO application settings.

You may change your PIN in IKO or on the iPKO website (Inteligo). If the PIN is entered incorrectly 3 times, the application will be blocked, and then the application PIN may only be changed via the iPKO Internet banking service (Inteligo).

Set up transaction limits in IKO

Mobile IKO is a payment instrument like a bank card. All financial transactions made via the application (transfers, in store and online payments, ATM withdrawals) are subject to limits.

For IKO transactions you can choose one of three ready-made limits profiles (Default, Comfortable, Always with a PIN). At the beginning, Default limits of up to PLN 1,000 per transaction are set up, provided that transactions over PLN 100 require a confirmation with the application PIN.

You may change your limits freely on the iPKO website (Inteligo).

Deregister IKO before leaving your phone for repair

When you leave your phone at a service point, you do not know who will have access to your data. If a repair is necessary, disconnect IKO from your bank account. IKO may be deregistered in three ways:

in IKO settings or
on iPKO website in the IKO section, or
by calling the Bank's hotline.